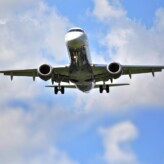 Cadiz, Kentucky is within 1 hour of Barkley Regional Airport in Paducah,Kentucky and Nashville International Airport, Nashville, Tennessee.
For further information:
Barkley Regional Airport
2901 Fisher Road
West Paducah, Kentucky 42086
(270.744-0521
Barkley Regional Airport provides excellent services
-Service to Northwest Airlines' hub in Memphis via Northwest Airlink
-114 one-connection flights to domestic and international locations
-Outsized/bulk cargo aircraft charter services with DC-9's and Boeing 727's
-Midwest Aviation offers a fleet of charter air crafts and accommodates over 220 tons of cargo annually
-Northwest Air Freight and American Airlines offer small package freight services on regularly scheduled passenger flights
Nashville International Airport
One Terminal Drive
Nashville, TN 37214
(615) 275-1675
The Nashville International Airport is our commercial airport.  Located only 1 hour away via interstate 24, this world class airport provides hundreds of flights daily that can take you anywhere in the world.  Air cargo is another important component of the Nashville International Airport.
Cadiz-Trigg County Local Airport
Smith D. Broadbent Airports at Lake Barkley State Park
Airport Road
Cadiz, Kentucky 42211
(270)924-1131
The Smith Broadbent Airport at Lake Barkley State Park sells 100 low lead and Jet A Fuels.
If the plane is tendon wheeled, you can land a 60,000 pound aircraft.  Single is 30,000 pound aircraft.
**There is a 4800 runway.
You may print most of this page here feed from the State of Kentucky or another third party and will not be included within the print-friendly version
however, some components of this page are provided as a